WELCOME TO
OCOEE MIDDLE SCHOOL
2250 North Ocoee Street
Cleveland, Tn 37311
Phone 423-476-0630, Fax 423-476-0588
Ocoee Middle School
Cordially invites you to attend the retirement celebration of
Ron Spangler, Principal
and
Beverly Ledford, Assistant Principal
Sunday, May 20, 2018
2 pm - 4 pm
In the Ocoee Middle School Library
Announcements for Wednesday, May 16th
Ocoee Middle School will conduct Open Enrollment/Out of Zone registration for the 2018-2019 school year from May 1st through May 11th.
Application packets may be picked up in the office between 8:30 AM and 2:30 PM.
Basketball tryouts
Girls--8th grade May 8th 3:30 - 5:30
7th grade May 7th 3:30 - 5:30
6th grade May 24 11:30 - 1:00
May 25 10:00 - 12:00
Boys--8th grade May 22 3:45 - 5:30
7th grade May 21 3:45 - 5:30
6th grade May 25 10:00 - 12:00
2018 OMS Football Tryouts
Upcoming 7th graders May 15th 4:00 - 5:30
Upcoming 8th graders May 16th 4:00 - 5:30
Parent Meeting 7th and 8th grade May 16th 5:30 PM in the OMS gymatorium
Must have an updated Sports Physical in hand or on file at time of tryouts.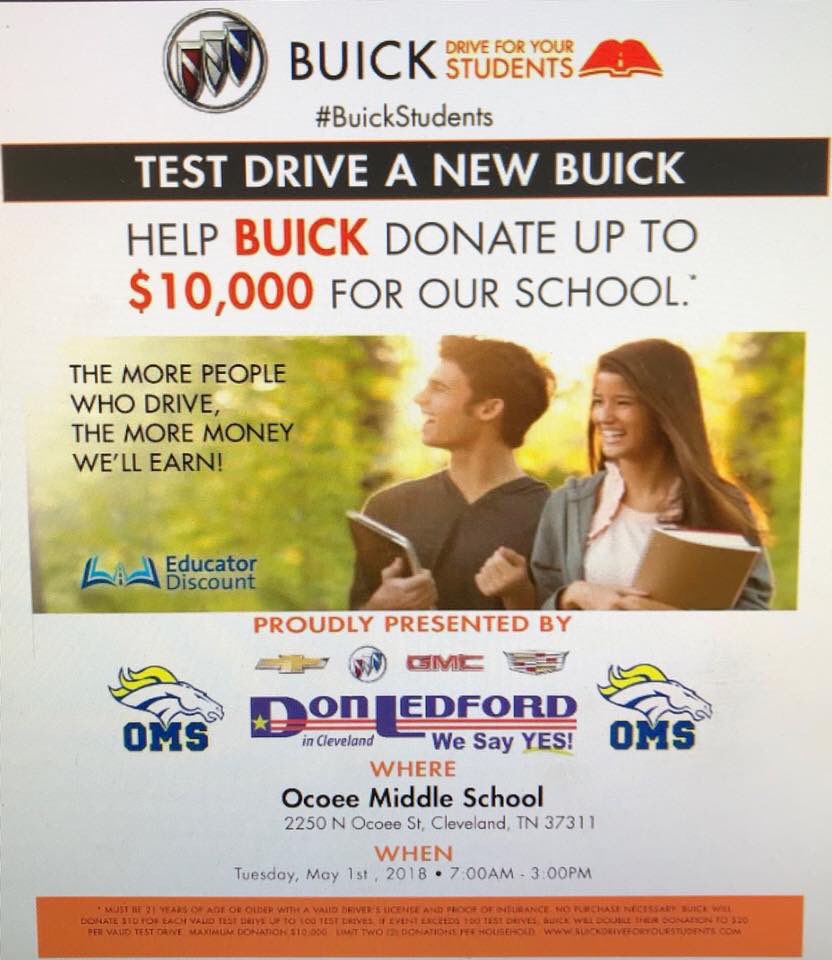 We did it! Thank you to everyone who came out and test drove to help us meet our goal. So thankful to be part of such a supportive community. Congratulations to Michigan Ave on hosting the next event.
Our website now includes a newly designed Attendance page. Click on "Policies" under the Attendance heading on the left side of this Home page to view that page and the important information posted there.
To view the school calendar for the 2018-2019 school year, see below under District News.
Our school opens in the morning as follows: the bridge area is open at 6:50 and students should report to the cafeteria upon arrival. The lobby and gym doors are opened at 7:10 and students must report to either the cafeteria or the gym immediately upon entering the school.
For Dismissal times and pickup map, see article under Highlights further down this page.